Another Hungarian-inspired side-dish, also called
p
árolt piros káposzta,
this recipe is actually quite similar to the cucumber salad recipe I posted yesterday. The main differences being this one is served warm instead of cold and uses cabbage instead of cucumber.
Ingredients:
1/2 of one large or one whole medium-sized red cabbage, sliced
a bunch of salt
1/4 cup oil
1/2 cup water
3/4 cup white vinegar
1 tbsp sugar (plus more to taste, if necessary)
Slice the cabbage and add to your pot in layers, with a few grinds of salt in between each layer. When the cabbage is all sliced and salted, let stand in the pot for ten minutes. Unfortunately, sliced red cabbage looks like brains. For this, I am sorry.
In the mean time, mix the water and vinegar in a cup - add sugar and stir until the sugar is dissolved. Drizzle oil over the cabbage then add your water/vinegar/sugar mixture.
Cook on medium heat, stirring every five minutes or so. This will take about an hour or so to cook - it is done when all the liquid is gone and your cabbage is a red/brown. When it's looking 20 minutes off done, taste and add additional sugar or vinegar if necessary. This makes heaps - enough to serve about six people as a side dish, depending on the size of your cabbage.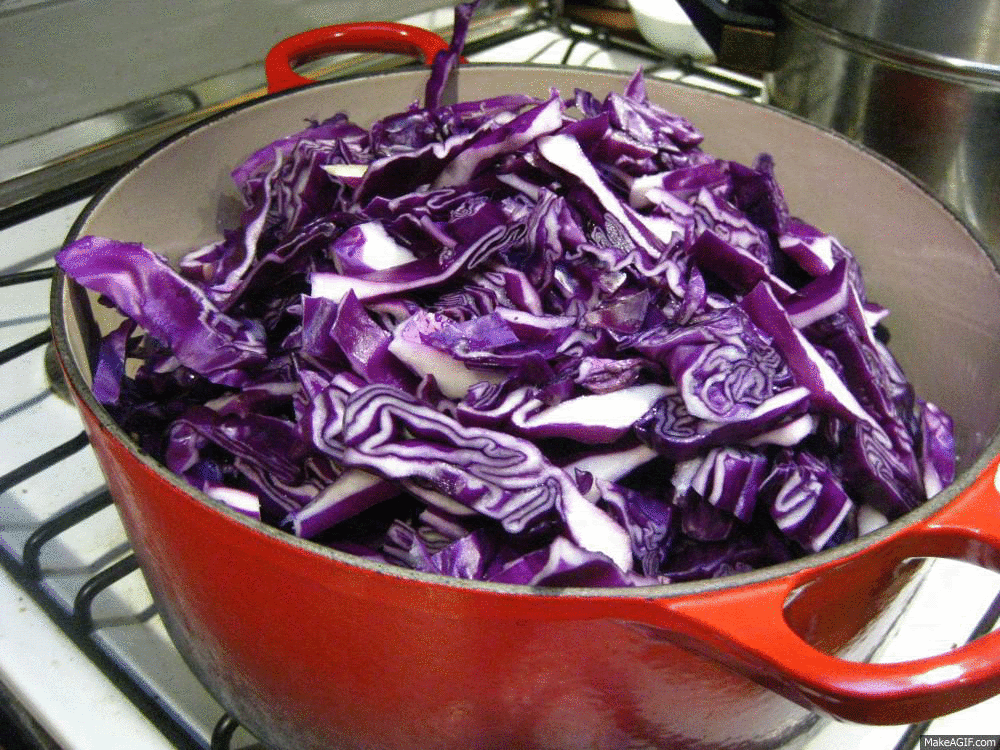 Here is the cabbage served with cucumber salad, roasted potatoes and tofu steaks!